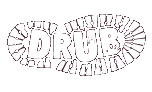 About the Artist

The life and times of Drub spans 30 filthy years of hard, sweaty, fun. Find out a little more about your favorite pervert, where he learned, and what is available for purchase.

What's Up?

Usually something good is going on and maybe somewhere near you...! Gallery shows, new publications, collaborations, events and more are listed here.

My Big Mouth

Hello to those I no longer talk to who pop on my site to see what's going on in my world. I know you're doing it. Want to see a sculpture I worked on?