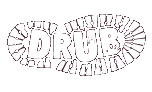 About the Artist

The life and times of Drub spans over 25 years of hard, sweaty, fun. Find out a little more about your favorite pervert, where he learned, and what is available for purchase.

What's Up?

Usually something good is going on and maybe somewhere near you...! Gallery shows, new publications, collaborations, events and more are listed here.

My Big Mouth

My religious friends tell me today is the Feast of St. Michael. Of course, I had to look up Michaelmas.