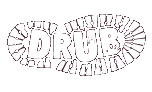 About the Artist

The life and times of Drub spans over 25 years of hard, sweaty, fun. Find out a little more about your favorite pervert, where he learned, and what is available for purchase.

What's Up?

Usually something good is going on and maybe somewhere near you...! Gallery shows, new publications, collaborations, events and more are listed here.

My Big Mouth

Everyone is busy with their 4th of July libations, cook-outs, and fireworks. I was busy in the studio painting and finalizing this piece.